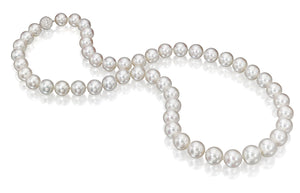 This beautiful necklace features thirty one round South Sea pearls with varying diameters between 12.0 millimeters and 13.9 millimeters. The pearls are stung on a woven silk chord and are fastened by a 18kt white gold, platinum, and diamond ball clasp. The last peafures forty pave set diamonds with a toal weight on 2.95 carats. The necklace measures 17.7 inches in length. 
Made in New York, NY
Design by Assael Inc.